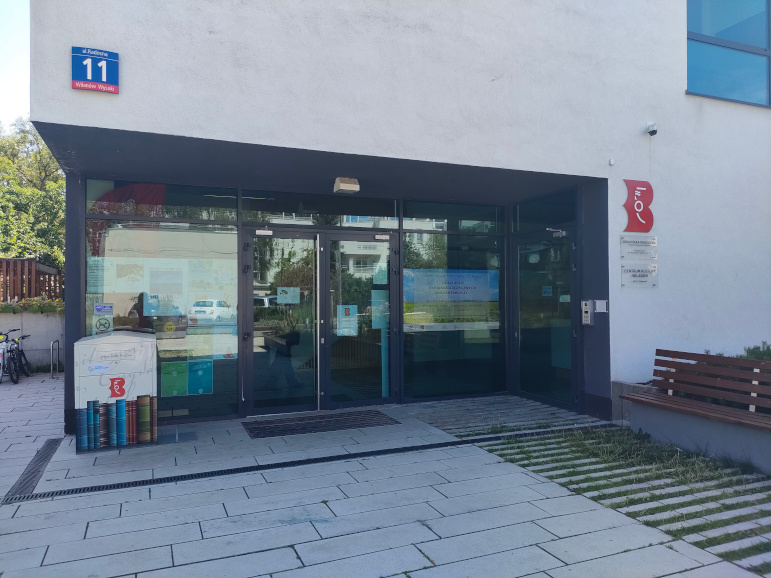 Intergenerational Educational Centre
(Międzypokoleniowe Centrum Edukacji)
ul. Radosna 11
Warszawa, Wilanów Wysoki
Programming classes for children, Warszawa, Wilanów
Robotics classes for children, Warszawa, Wilanów
The Integenerational Educational Centre is one of the branches of Wilanów Cultural Centre (Centrum Kultury Wilanów) and has a convenient location for students at many schools in Wilanów. The same building at ul. Radosna hosts a public library and Preschool No. 427 (Przedszkole nr 427). In the Centre's vicinity is the Wanda Rutkiewicz Primary School No. 300 (Szkoła Podstawowa nr 300 im. Wandy Rutkiewicz) and the Polish-French Primary School "La Fontaine" (Polsko-Francuska Szkoła Podstawowa "La Fontaine"). Close by, at ul. Królewicza Jakuba, there is the private Polish-English Primary School Edison from which the Centre can be reached in 8 minutes on foot. To parents of students at the above schools we offer the service of picking children up, bringing them to the classes and dropping them off at the school day-care room. Within 12 minutes on foot from the Educational Centre is the private Primary School Number One (Prywatna Szkoła Podstawowa Numer Jeden) and we also invite students at this institution to attend our programming lessons.
The Centre's location at ul. Radosna 11 is advantageous not only for the students from the above institutions, but also all children attending classes at the Wilanów Sport Centre (Centrum Sportu Wilanów) and the swimming pool at ul. Gubinowska by the Primary School No. 300 (Szkoła Podstawowa nr 300).
Would you like to add another location to the list?
Contact us and we will organise programming classes at your school.