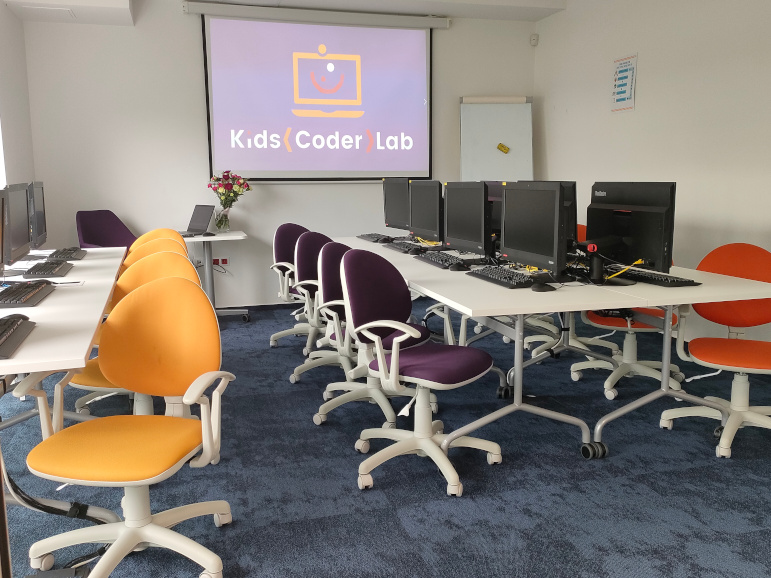 Kids Coder Lab
ul. Hlonda 10
Warszawa, Miasteczko Wilanów
Programming classes for children, Warszawa, Wilanów
Robotics classes for children, Warszawa, Wilanów
Our computer lab at ul. Hlonda 10 is in the key location of the neighbourhood – close to many educational institutions. A hint: you will find us between the toy store and Herbaciarnia Wilaboba&Friends café.
We can be reached on foot from many schools in the area:
British School of Wilanow at ul. Hlonda 12 (across the street)
Szkoła Podstawowa nr 358 at ul. Ledóchowskiej 10 (300 m from the main building, 600 m from the new building)
Szkoła im. Alberta Einsteina at ul. Hlonda 20 (450 m)
Szkoła Podstawowa nr 400 at ul. Oś Królewska 25 (650 m)
For students from the above schools, we have a pick up & drop of service. Our teachers pick the students up from these schools and walk them back to them after our classes.
In our programming and robotics school at ul. Hlonda 10 we conduct classes from Monday to Friday. Lessons take place in the afternoons and in the mornings. The morning slots are for grades 1–3, for children attending school in shifts. Classes are in Polish and English. The offer is wide and students from all age groups will find a course that will help them develop their interest in coding. At this location, we also organise birthday parties, and fun can be continued at the nearby tea shop.
Would you like to add another location to the list?
Contact us and we will organise programming classes at your school.