Free demo class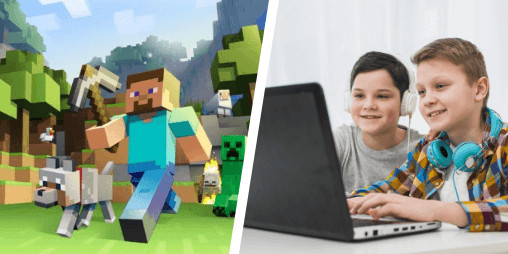 Classes on programming in the Minecraft world, delivered by experienced instructors.
Age group:
After the course students:
Create a block-based code in Microsoft MakeCode and change their Minecraft world through the code
Know the concept of events and how events can trigger the code in the game
Know the difference between relative and absolute coordinates and are able to use them to determine their position and the location of other objects
Are familiar with variables and able to apply them in the code
Create "if then" and "if then else" conditionals and are able to use them to debug the code
Understand the concept of artificial intelligence, are able to point to differences between human and machine intelligence, and discuss ethical issues related with AI
Use block-based coding and JavaScript to code the movements of their agents and build objects
Are familiar with fundamental programming concepts, such as functions, variables and loops, and know how to use them
Combine mathematical operations with programming tools to change the game world
Know that the same result can be achieved in various ways through coding
Are able to plan the use of multiple coding techniques to implement their project
Course description
This course is based on the Minecraft: Education Edition platform. Students learn block-based coding with Microsoft MakeCode. Then they learn to navigate using coordinates and gradually become familiar with new programming concepts, such as events and variables, which they use to create their Minecraft world. They also learn how to diagnose an advanced code – with such elements as conditionals, functions and arrays – and debug it. Apart from coding, they dive into the topic of artificial intelligence (AI), discuss some AI-related ethical concerns and explore the ways in which they can code their agent so that it behaves intelligently. Towards the end of the course, students carry out their own projects to showcase their new programming skills.
This course is based on the Minecraft: Education Edition platform. In the game, students code the movements of their agents – personal robots which follow their commands and build objects in the Minecraft world: roads, buildings, parks, zoos, wind farms. All commands are given by students through the code. During the course, students gradually learn more advanced coding techniques and turn their ambitious ideas into reality.
Don't miss the next edition
Send us your e-mail address and we will notify you about the new enrolment period.
Send your e-mail address
Schedule
MASTER (klasy 4–6)
Mondays, 18.00–19.30
Start: December 7
JUNIOR (klasy 2–4)
Tuesdays, 15:00–16:30
Start: December 8
---
Details
Requirements
Basic command of Polish
Course duration
8 sessions, 90 minutes long for each session
Age group
MASTER (klasy 4–6)JUNIOR (klasy 2–4)
Group size
Maximum 10 students
Who can attend?
Students with or without prior knowledge of Minecraft
---
Fees
Price
530 zł (single payment)
Discounts
5% for enrolled sibling
Free demo class
The first class is free. You can enrol without any obligation to pay or continue the course. After the first class, decide whether you would like to continue.
Parent testimonials
"Our 7-year-old son discovered a true passion for programming through online classes in the Minecraft world. They greatly improved his logical and spatial reasoning. And they were a big motivation to learn."
Andrzej's Mum
"The coding with Minecraft class at Kids Coder Lab was exactly what my daughter needed. A combination of passion and learning is a perfect way for her to follow her hobby. Cooperation with the owners was fantastic."
Grażyna's Mum
"The lessons with Kuba sparked curiosity in our son Henryk and strengthened his interest in programming."
Henryk's Dad
"Thank you so much for these cool classes. Dorotka likes them a lot. She said she would love to continue learning with you after the summer holidays :)."
Dorotka's Dad
"My son was coming back home delighted. The lessons were always engaging, ambitious and fun. Well done to the teacher who was able to keep such a high standard of the classes."
Filip's Mum
"Coding classes are one of the few that my Tytus attends with enthusiasm. After the first lesson he said: the best class ever."
Tytus' Mum
"Coding classes are my daughter's favourite – she's really looking forward to them. Afterwards, she comes back with stories and shows us what she had achieved in the computer world."
Agatka's Mum
About Us
Kids Coder Lab is private educational facility entered into the Register of Schools and Educational Facilities under number 271701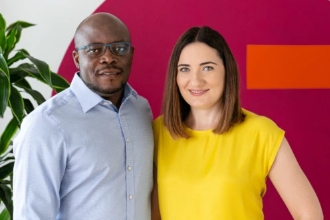 Kids Coder Lab was founded by John and Magdalena Mulenga.
Our mission is to help children acquire digital literacy and equip them with skills that the future demands.
Learn more about us
More about the Minecraft online course
The course is based on Minecraft: Education Edition. Students program an agent – a personal robot which follows their commands and builds objects in the Minecraft world, e.g. roads, buildings, parks, a zoo or wind farms. All commands are given through code. During the course students learn coding technique of increasing difficulty and make their boldest ideas come true.
How does an online course look like?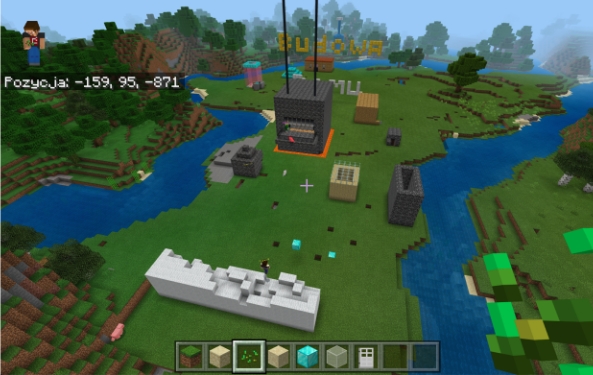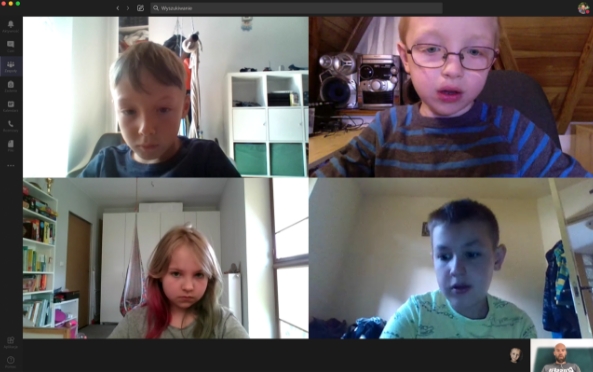 Photos: Minecraft online classes
Our online classes are live, scheduled interactions with our teachers and other students. Our teachers will be interacting with the students using voice (microphone), live feed (face camera), chat and screen sharing. Students share virtual worlds for coding group tasks and projects. Students receive from us a dedicated Minecraft: Education Edition license. During the course they can use it also in their free time.
Technical Requirements
Access to the Internet
A desktop or laptop computer (tablets or mobile phones are not recommended)
A microphone and speaker (e.g. headphones with microphone)
Microsoft Teams installed (login details will be provided)
Minecraft: Education Edition installed (login details will be provided)
Frequent questions
How do I choose the programming course?
Our offer of programming courses includes tens of items, so we recommend using filters to narrow down the choice. Firstly, select the location which is most conveniently reached with the child or from which we can pick the child. In the second step, select the language of instruction in which the child will learn (we offer courses in English and Polish). Next, notice the age group and choose the appropriate one for the child. After filtering the courses, there will be one or several courses left. Now you can read the course descriptions and select the course which best suits the child's interests.
Can I enrol the child in a programming course for a higher age group?
Age groups specified for the programming courses for children and teens are our recommendation, not strict guidelines. However, they are worth taking into account. Our experience tells us that children below the recommended age group will do well during the course if they meet one or more of the following conditions:
- feel well handling the computer,
- have completed other programming-related courses or programming exercises at home,
- have experience in cooperation with older children, e.g. attend other courses with older children or spend a lot of time with older siblings at home.
The most important thing is to encourage the child to learn programming and not discourage from it. Only some children will find working with older students to be a motivation for learning. For most it would be a difficult and discouraging experience.
Considering enrolling a child in a course designed for older children, it is worth to think about the natural milestones in the child's development – to which our courses are adjusted. The first important milestone is learning how to read. Children who don't know yet how to read, learn at our school only in the youngest age group for grades 0–2. The second milestone is the transition from block-based to text-based coding. In our programming courses for children we gradually introduce elements of text-based coding, beginning from the second grade. However, only courses for the sixth and higher grades are solely based on text-based coding. We know from experience that only a handful of young programmers from the fifth grade are able to successfully complete these courses. The majority of the children needs to "grow into" the purely text-based coding which requires a lot of patience. We do not recommend skipping this phase too quickly, ahead of the child's natural abilities.
If, having considered all these factors, you still have doubts about the right group, let the child try our classes. Already after the first class in both age groups it will be possible to draw conclusions and discuss the child's abilities with the instructors. Then you can choose the group that is best suited to your child's needs.
All questions
Why coding for children?

A new language
Coding is like learning a new language. Children learn to program using on-screen games, visual programming languages and actual coding scripts before they can decipher the complex math behind coding at the college level.

Window to new opportunities
Learning early a skill, such as coding, provides diverse opportunities and empowerment for the future enabling children to have a wider imagination of possibilities and creativity.

Creative self-expression
Children seamlessly move from simply interacting with technology to creating technology for creative self-expression in various ways.

Critical skills
Coding enhances children's math and analytical skills, including logical communication and critical thinking, which results in better writing skills.

Resilience and patience
Children learn how to be resilient, practise patience and build up confidence as they tackle challenging problem-solving tasks through coding.

Planning and organisation
Coding teaches children how to focus, be precise and develop planning and organisational skills, which they acquire naturally as they write more complex codes.